Support Tracker.Net
Support Tracker.Net streamlines support services, simplifies performance tracking and measuring results.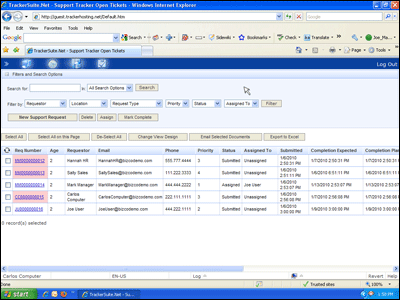 Support Tracker.Net is a Web based help desk system that improves support services by simplifying ticket creation, smart ticket routing, simplifying SLA Management, automating workflow and providing functions for tracking ticket status and help desk performance.
For more information about Support Tracker.Net, or to register for access to a free demonstration site, please contact us today.
We are also pleased to offer an Outlook help desk system that leverages email to automate the support service process.
Key features include:
Simplify support ticket creation with category and priority picklists.
Track ticket status with configurable, color coded support ticket dashboards that can be emailed.
Improve support service response with smart routing of tickets.
Configure automated email notifications of ticket assignment and closure.
Manage support service chain with functions for ticket escalation and deferment.
Tickets can be created for other users or customers.
Maps to your support services model with multiple, configurable profiles for ticket category and priority.
Generate reports on support service performance and results.
Convert support tickets into projects or tasks.
Attach tickets to assets to facilitate help desk coverage.
The ability of Support Tracker.Net to integrate with Customer Tracker.Net, a Web based CRM software solution, provides organizations with unique business process opportunities, such as establishing a CRM Help Desk and simplifying IT Service Management and IT process management.